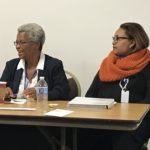 Sponsored by the United Nations Committee on the Status of Women (CSW) which is currently in contact with more than 20,000 women from 189 countries,  the opening session was held at the City of Manhattan Community College.  The priority  theme of the UN sessions addressed the "Challenges and opportunities in achieving gender equality and empowerment of rural women and girls".
Under-Secretary-General and Executive Director of UN Women, Dr. Phumzile Mlambo-Ngcuka, was one of three opening speakers on the topic of "Advancing Towards Leaving No One Behind".  A remarkable woman in her own right, she has devoted her life to issues around human rights, equality and social justice. Involved in the struggle to end apartheid in her home country of South Africa, she was an MP in South Africa's first democratic government. She painted a grim picture for the 400-million women African farm workers who experience gender inequality, few rights, little or no wages and  inability to own the land they farm. Governments have to take responsibility for improving conditions for working women, she says, and although they may pay  lip service to the issue, in remote communities this has no effect.  Dr. Mlambo-Ngcuka advised delegates to resist the normalization of bad behaviour by using resilience, conviction and assertiveness.
Here are some quotes from her very inspirational speech for further reflection:
– Labour laws for rural women are necessary.
– They (women in rural areas) feed us but they are invisible.
– Girls become child labour due to lack of sanitation, water and transportation infrastructure.
– A 7 year old has to make up for policy failure by caring water for miles.
– Make sure we do not have a disconnect with urban based women as they have similar challenges as women in rural areas.
– Direct engagement with the women in the local context is key.
Nigeria created safe homes for women who have suffered violence. This is also a "Me Too" moment. This is psychological support.
Let us fight the normalization of unacceptable behaviour.
Women need the benefit of being validated even when they are not doing ground breaking stuff.
The power of lifting as you climb. Even when you don't like someone encourage and validate when they do the right thing.
Nothing about us without us.
H.E. Ambassador Geraldine Byrne Nason (Ireland) also delivered an address.  She talked about the moral challenge of gender inequality being gender inequality. Participation and the ability for women to address these issues themselves are important pieces of the work.  In Ireland something as simple as giving washing machines to rural women allowed them a free evening to organize themselves for advocacy. I felt her most important statement was, "People who assume local leadership are versed in Human rights".  In her final comment, she quoted Beckett, "Resilliancy means to fail, fail again, fail better".
Keynote speaker was  Sizani Ngubane, Founder of Rural Women's Movement  South Africa and this year's  recipient of  CSW's Woman of Distinction Award.  Sizani was nominated by the International Alliance of Women for her remarkable work.  She stated her "Me Too" moment began 64 years ago when she was 6 years old, hiding under her mother's bed listening to free radio from Zimbabwe, former Rhodesia. She heard "Smith is killing people every day at 7 p.m." and that compelled her to make a difference in the world!
She, too, confirmed that women in rural areas have been silenced and have suffered much. Women produce 85% of food that is consumed but own less than two percent of the land on which it is grown. There  also a movement afoot to ensure that women can inherit land, impossible at  the moment.  Ngubane said  that rural women  must be able to counteract the actions of men and eventually get government approval to be elected to positions of power.
The afternoon session "Technology and Media in the Empowerment of Rural Women and Girls",  provided some practical strategies to be effective communicators in the struggle for equality and empowerment.  First, know your audience.  Most people are not driven by facts but by human experiences; since we live in an age of story telling, tailor your messages accordingly. Speak or write with love and speak to the heart; negative messaging is not effective. Work with trusted voices and pick your spokespeople carefully. It is not what is said but who is saying it. Conversations, not content, drive discussion. Create a "surround sound" and radio is the best medium for this approach. If content is king, then distribution is the kingdom. Think about what partnerships we need to get our messages across.
These "Seven Golden Rules for Storytellers" were highlighted in documentaries and national campaigns on women's issues, created and directed by women in media.
To end the day, Mayor Garacetti was given the "Convention on the Elimination of All Forms of Discrimination Against Women (CEDAW) Award" and a posthumous award to San Francisco Mayor Lee, which was accepted by his daughter.
Co-Auhors: Gail Crawford, CFUW Mississauga & Cheryl Hayles, VP International Relations, CFUW