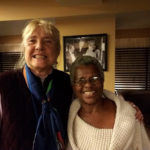 It was an amazing experience to hear about the conditions of women in countries all over the world.  To get an overview of this huge conference with 4,000 delegates*, I attended about five  90 min. panel discussions per day for 6 days!  I heard presentations from ambassadors, ministers, NGOs (Non-Governmental Organizations) and civil society (citizen activists) on a variety of topics including rural women in agriculture, land rights, inheritance rights, politics, education, access to internet and radio to reduce isolation and increase knowledge, child marriage, and violence to name just a few.  It produced a  whirlwind of information that I am still struggling to organize and communicate in a way that does justice to the issues.
In order to make successful change, advocates need to work together.  This is certainly facilitated by the annual Commission on the Status of Women.  It often involves partnering with groups in other countries.  This was evident in the variety of countries represented on most panels.  For example in the session Korea Against War,  the speakers were from Canada, Japan, and So. Korea.  They talked about their combined efforts to urge Foreign Ministers from 20 countries to keep peaceful negotiations as the only option for security on the Korean peninsula.  Other partnerships were between Afganistan and Finland, and Uganda and Australia.  Canada is also partnering with Kenya to help with setting up an Investment Fund using local savings to be used for local projects. In many of the presentations, there was a strong push to include women in decisions affecting their rights.  Donors often decide what the funds will be used for.
I was surprised to learn that in South Korea, there is 100% literacy, with 25% of the national budget earmarked for primary education.  One program feeds children at school to ensure they come, using food produced by local farmers which helps the local economy.
Another success story is in Rwanda, where in 1994, one million people were slaughtered in acts of genocide.  The current President is a firm leader making good decisions and fast changes.  All children are required to have 12 years of education.  90% are covered by health insurance and 90% with HIV are receiving medication.  Life expectancy has increased from 48 to 67 and women are being encouraged to participate in government.
Other reports, however, were heartbreaking:  Widows required to marry a brother-in-law or lose her children and be cast out of her home, children as young as 10 who were raped, were denied abortions because of religious customs, and of course, lack of  penalties for violence against women.  Small improvements in the lives of women and girls are being made in many countries but progress is discouragingly slow in most.
It is sobering for me to realize that in many countries, women are actually risking their lives when they advocate for gender equality and freedom from sexual assault and exploitation.
One lovely and unexpected meeting happened when another delegate and I were waiting for the next session to start.  Three muslim women came into the room to have some lunch, and when they saw us they offered to share their homemade Persian rice and stew.  We accepted and discovered they were health workers in Iran who, among other activities, organized mobile clinics for rural areas.  The one young woman who spoke excellent English was born in New York and had no trouble travelling between the US and Iran.  Life in Iran seemed quite nice from their description.
The Woman of Distinction Award was given to an amazing, self-taught,  Zulu grandmother named Sizani Ngubane, who founded The Rural Women Movement in South Africa.  It now has 50,000 members who are learning how to advocate for women's rights.  Her motto " persist, insist, and resist" has served her well.  She noted that 80% of food production is done by women, but only 2% of the land is owned by women.  So, in 1994, she decided to try to change the law. With other "unruly women", she took the government to court to allow women to own and inherit land.  In 2010, she won the suit!  She pointed out that there was still much to be done.  Despite laws being on the books, local customs often impede their implementation.
Women in rural areas include migrant workers…They often don't know what their legal rights are and are afraid to report instances of abuse for fear of losing their job or being deported.  Migrants in Florida are experiencing what is essentially modern day slavery.  Laws are unable to stop abuses in the fields or for those in domestic care if not reported.  I participated in a 4 hour protest march on the streets of New York in support of more protection for women agricultural and migrant workers so they can report abuses.
The conference is 2 weeks long.  I attended the first week as one of 20 delegates of the Canadian Federation of University Women (CFUW).  Our combined comments will be used to lobby the Canadian Government.
Gail Neff, CFUW St. Catharines