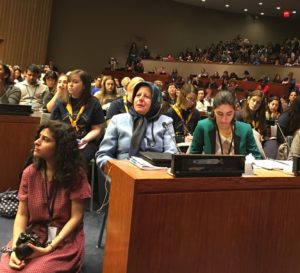 UN Secretary General Antonio Guterres accepted the invitation from women's NGOs to meet with them for an open dialogue on their concerns. The meeting was held at the Town Hall in New York. Women flocked to the meeting, and security had to stop people from entering because the room was overflowing.
The meeting was videotaped and can be watched here
In his introductory remarks and responses to questions from the floor the Secretary General among other things stressed
that there is a backlash not only where women's issues are concerned, but in all fields
that parity is essential in order for women to achieve empowerment, but it is a struggle as some men will lose their seats or positions
that parity is the best way to overcome resistance
that a road map is being prepared for the UN to ensure gender parity throughout the UN system by 2030
that there is a shrinking space for civil society at the UN and in the world as such. Consequently he would like to launch a campaign raising awareness about how  working with civil society is the best way to govern
that equality creates wealth and welfare
that there must be zero tolerance to violence against women among UN staff including peacekeepers
During the meeting a document was handed over to the Secretary General. It has over 900 signatories from 85 countries. In the document it says among other things:
Excellency, we are waging a battle alongside your efforts, to achieve a peaceful and prosperous world, one in which all members of society have the opportunity to live a life with justice, human rights and dignity. While current financial and political trends continue to hamper our efforts, we draw courage and hope from our long-standing relationship with the United Nations. We recognize that strong mutual support has propelled substantial progress for girls and women of all ages.
Read the whole letter and see the signatories:
NGO letter to UN SG March 2017_group edited FINAL (2)
Charlotte Bunch, long time activist for women's rights,  Funding Director and Senior Scholar at the Center for Women's Global Leadership, Rutgers University welcomed  the Secretary General hoping that this would be the first of many such meetings.
She continued:
Many of us were involved in UN Reform and the creation of UN Women, and women are among the most important supporters of the United Nations.
 We welcome you as a MAN who stated in the opening of CSW that: you "will stand up for women's empowerment and gender equality."    We take you at your word, and we will work with you & work to keep your feet to the fire.
We thank you for the initiatives you have already taken in that direction, —–such as the appointment of the top UN Posts of the 3 great women leaders here today with you;
-your recognition of the importance of women's equality to achieving the SDGs and all UN goals, especially in peace and security. 
– We were pleased to learn that you met with local women's projects in the Mathare slums in Kenya on International Women's Day.  We see this as a Best Practice and hope you will make contacts with diverse women's groups on all your trips around the world… to see both our daily realities and  the amazing activism of women for change taking place at the grass roots.
Today we hope to explore with you how we can break down barriers to gender equality and make faster progress on the commitments to women's rights made by the UN.  This is especially crucial now – in a time of growing populism, racism and other forms of intolerant extremism with backlash against women's gains, especially around reproductive and sexual rights.
As members of civil society  we have many questions to ask, but we all share the concern of shrinking space for our advocacy at the UN and nationally.   As you can see, we have a Chair with the sign "WHY is this Chair Empty" to symbolize all those who tried to come to the CSW, but could not because they were denied Visas to enter.  We ask that you work with us to ensure this does not happen again.
 We also want to ask you about how the UN can better assist in the Protection of Women Human Rights Defenders(WHRDs) … women facing many threats, violence & death as a result of their activism for women's and other human rights.
Many women have sent statements and papers to you about our hopes for what you will do as SG toward a more Feminist United Nations with women's rights at its core.
 Today, Saphira Rameshfar and Susan O'Malley of the NGO CSW NY committee would like to present a letter to you, signed by more than 900 NGOs and individuals from 85 countries, pledging to work with you to support the UN and to strengthen its commitment & actions toward gender equality and women's empowerment. 
We thank you for your time with us today.